SM5389V using the standard ,easy access to PLC,DCS and other instruments or systems for monitoring wind speed,conductivity state quantities.The internal use of high-precision sensing core and related devices to ensure high reliability and excellent long-term stability,can be customized RS232,RS485,CAN,4-20mA,DC0~5V/10V,ZIGBEE,Lora,WIFI,GPRS and other output methods.
Technical Parameters
Technical parameter
Parameter value
Brand
SONBEST
Wind speed range
0~30m/s
Start wind
0.2m/s
Wind speed accuracy
±3%
Shell material
aluminum
Wind direction range
0~360°
Wind direction resolution
22.5°
Power
DC12~24V 1A
Running temperature
-40~80°C
Working humidity
5%RH~90%RH
Product Selection
Product DesignDC0-5V,DC0-10VMultiple output methods, the products are divided into the following models depending on the output method.
Product model
output method
SM5389V5
DC0-5V
SM5389V10
DC0-10V
Product Size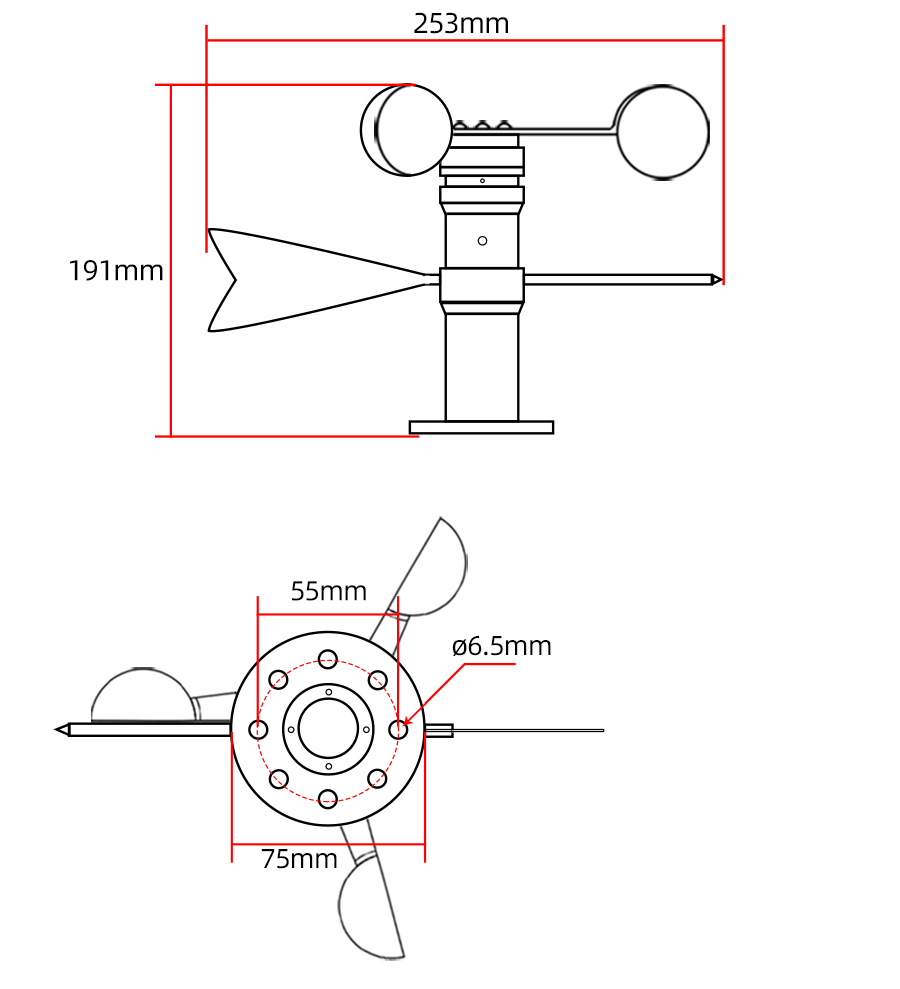 How to wiring?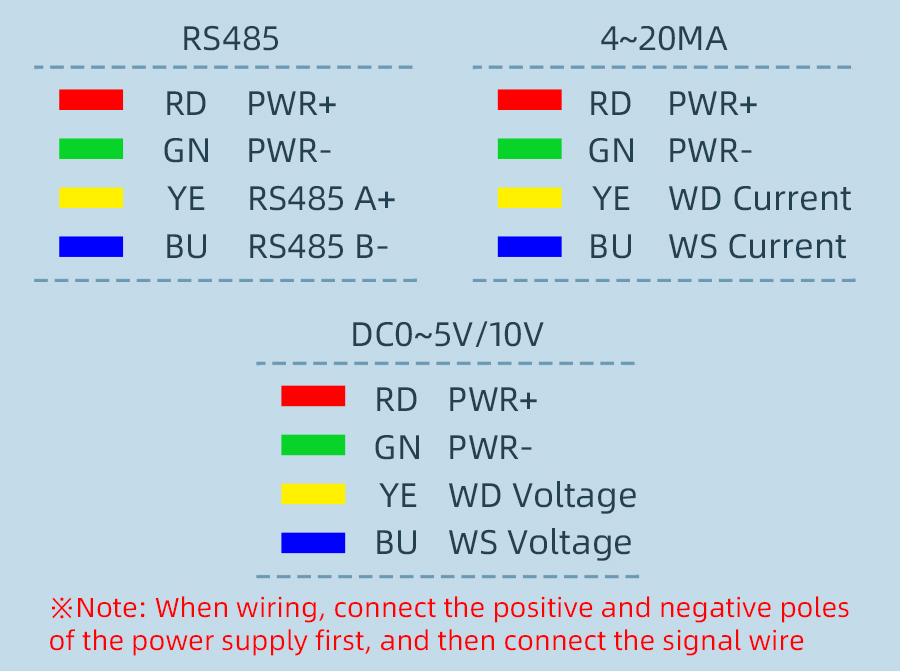 Why choose this product?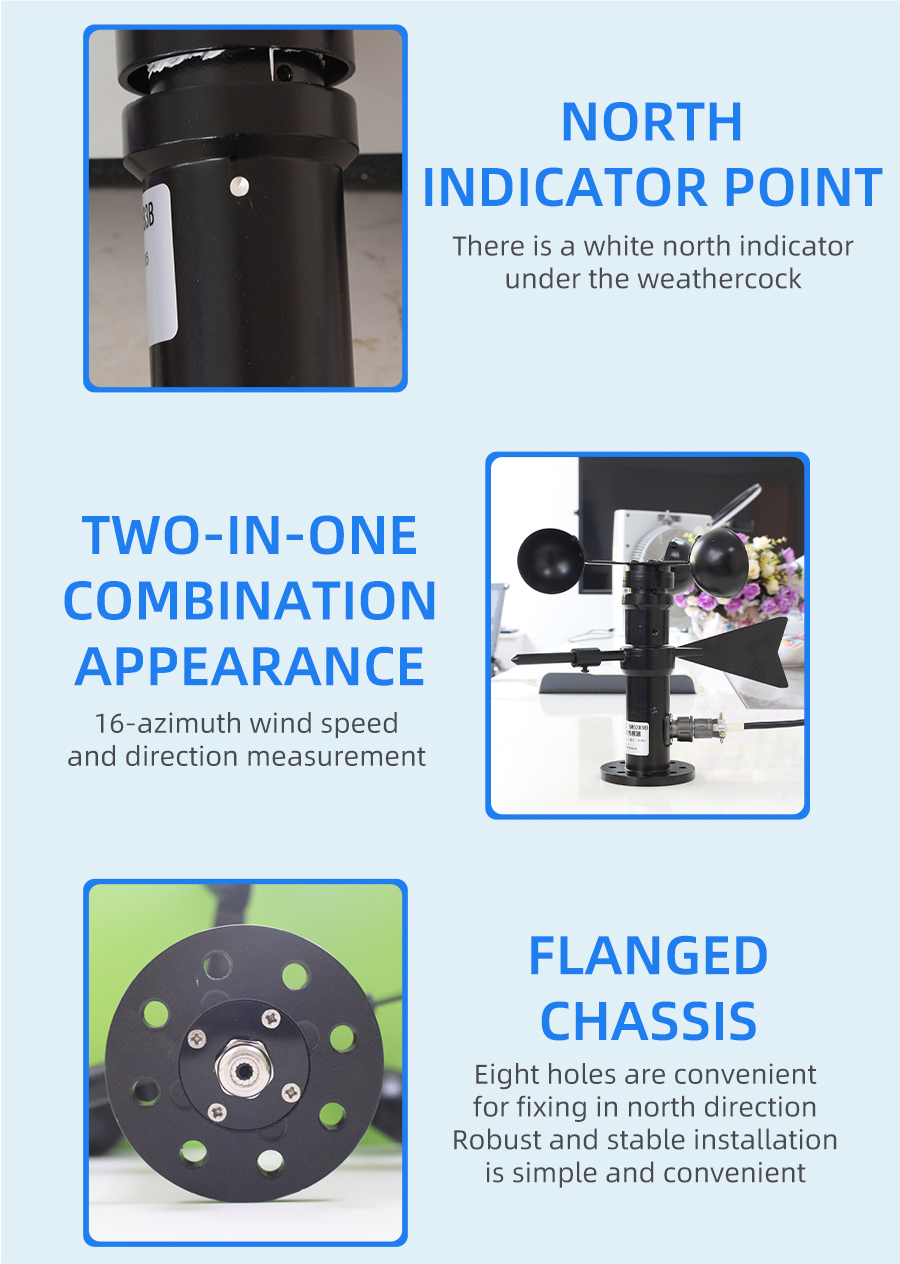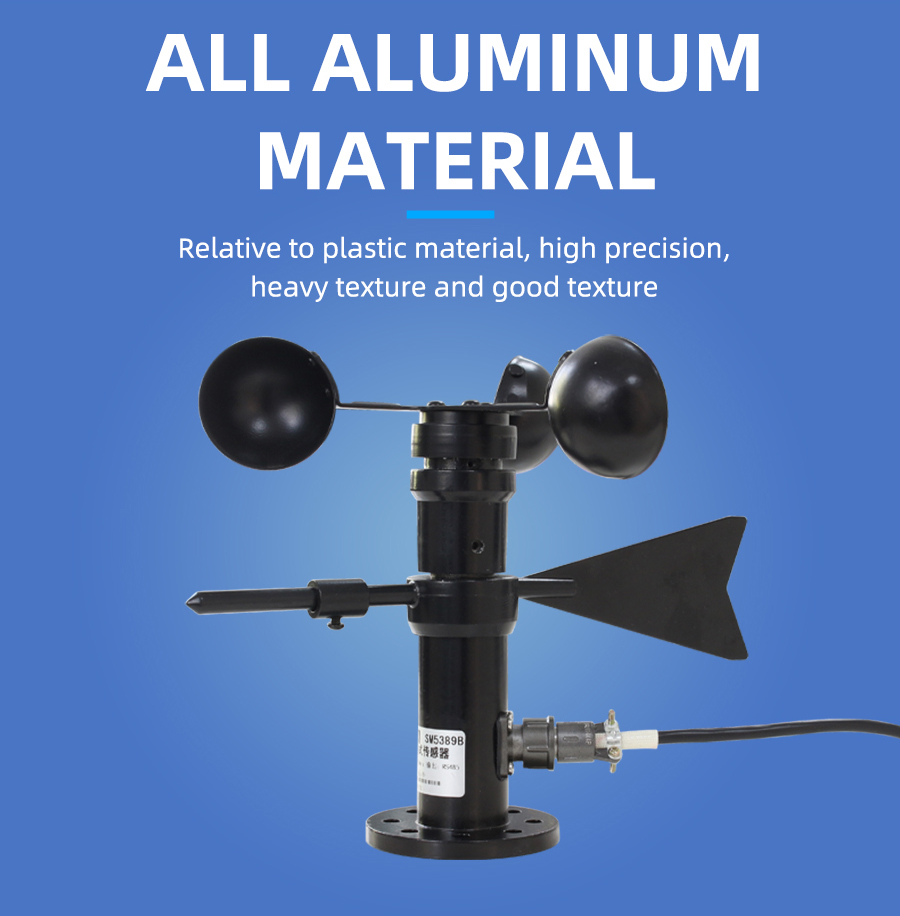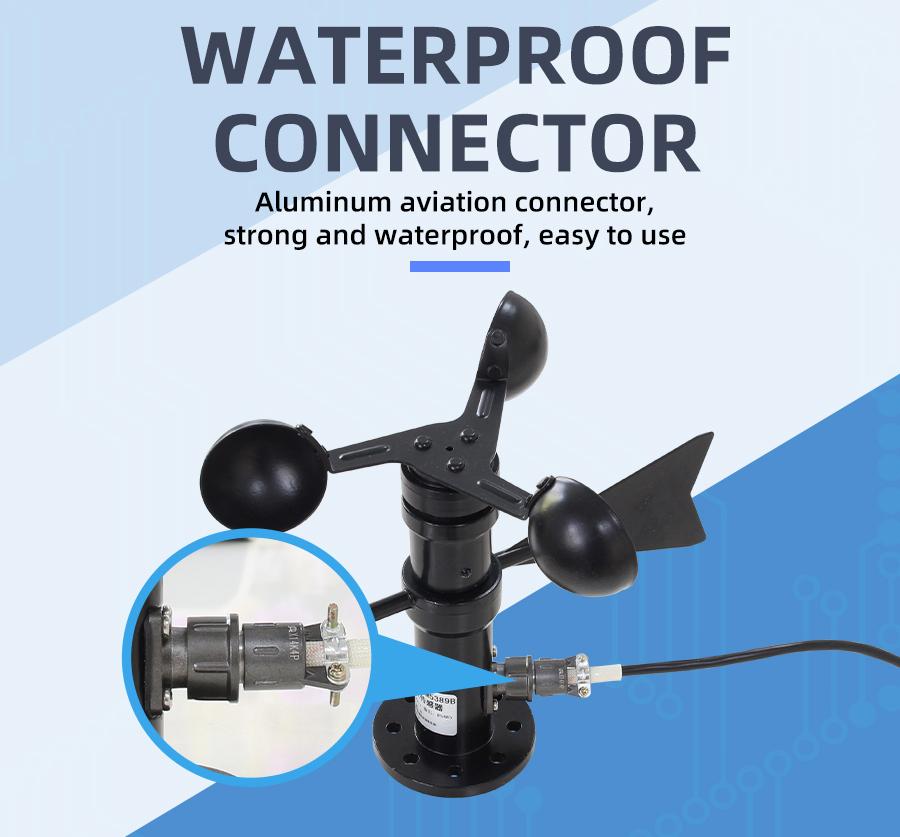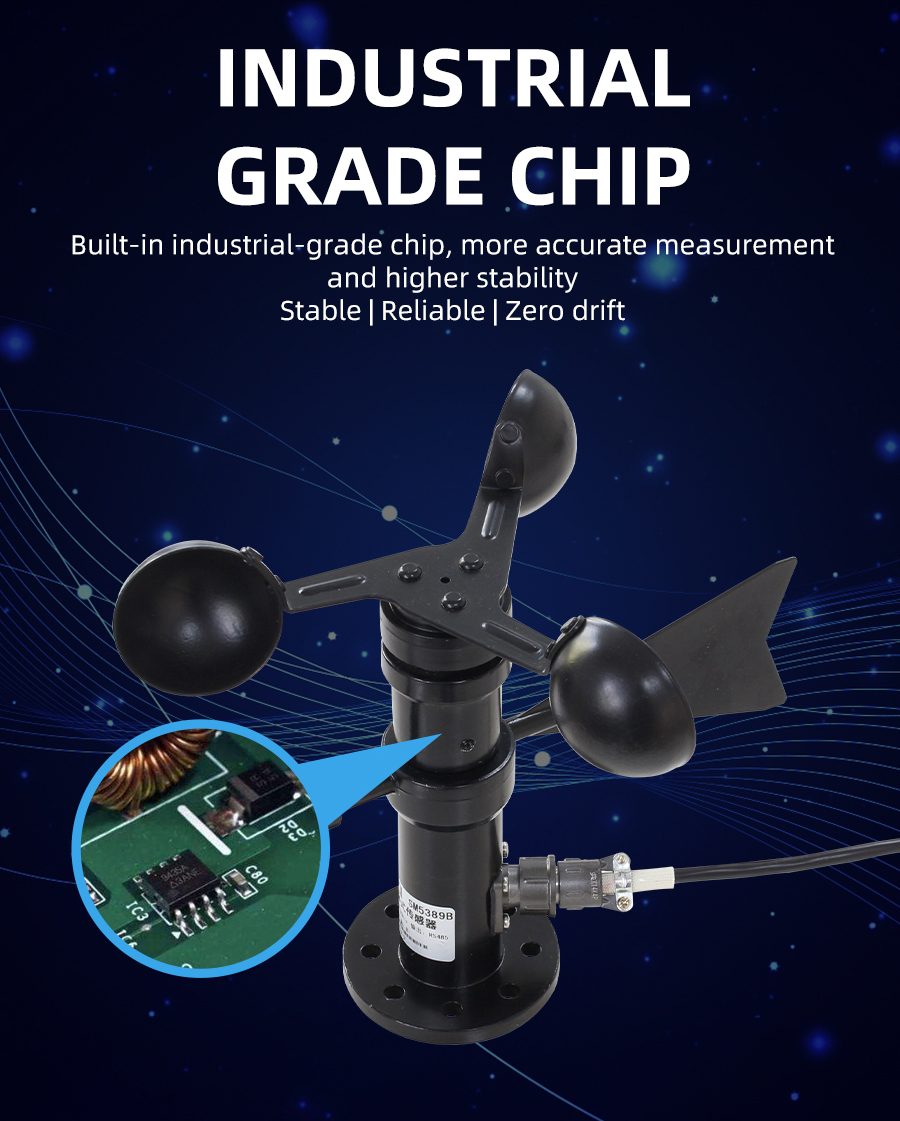 Application solution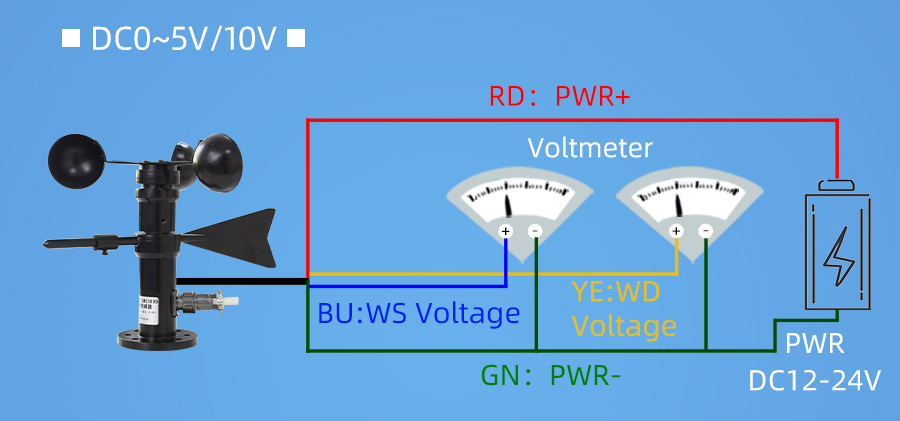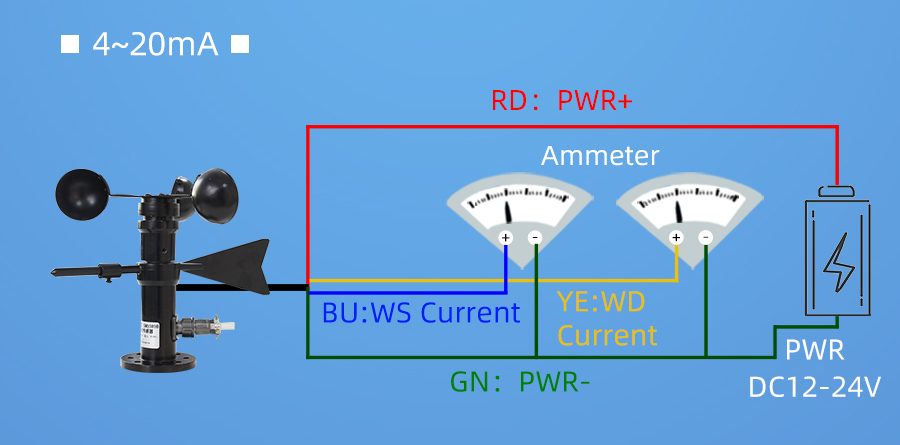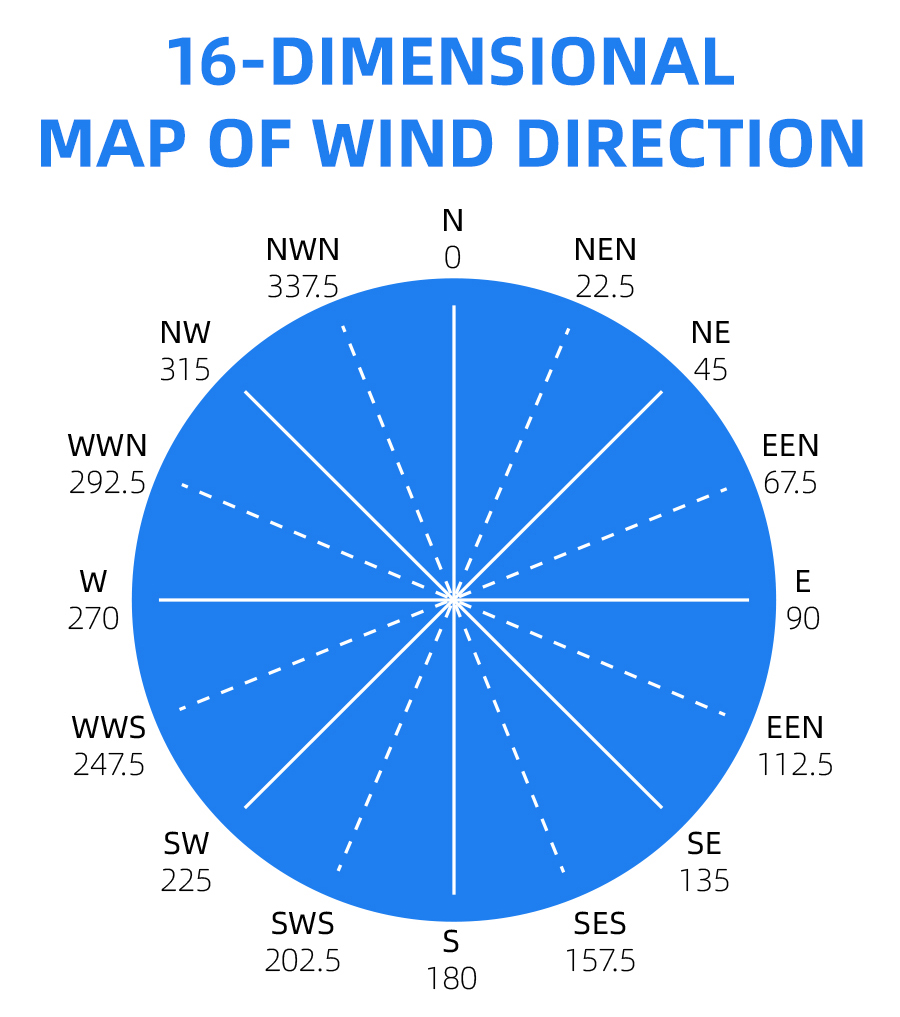 How to use?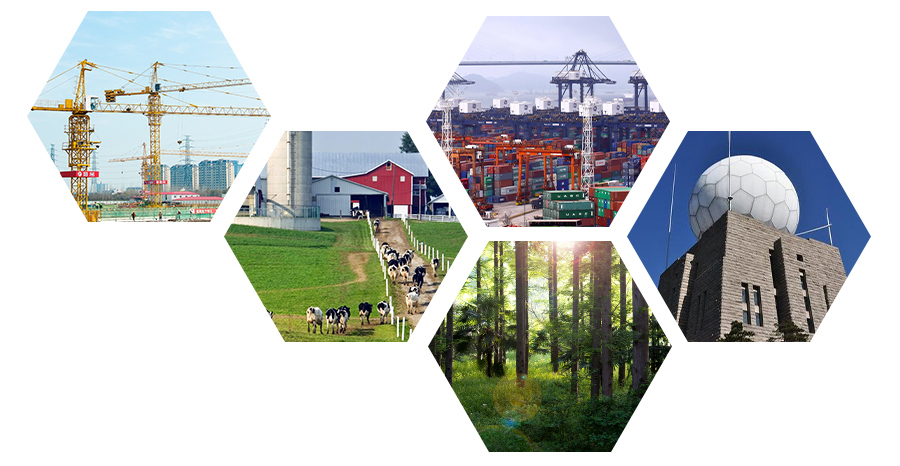 1. wind speed and DC0-5Vvoltage computing relationship
For example, the range is 0~30m/s, the analog output is 0~5V DC0-5Vvoltage signal, wind speed and DC0-5Vvoltage The calculation relationship is as shown in the formula: C = (A2-A1) * (X-B1) / (B2-B1) + A1, where A2 is wind speed range upper limit, A1 is the lower limit of the range, B2 is DC0-5Vvoltage output range upper limit, B1 is the lower limit, X is the currently read wind speed value, and C is the calculated DC0-5Vvoltage value. The list of commonly used values is as follows:
DC0-5Vvoltage(V)
wind speedValue (m/s)
Calculation Process
0
0.0
(30-0)*(0-0)÷(5-0)+0
1
6.0
(30-0)*(1-0)÷(5-0)+0
2
12.0
(30-0)*(2-0)÷(5-0)+0
3
18.0
(30-0)*(3-0)÷(5-0)+0
4
24.0
(30-0)*(4-0)÷(5-0)+0
5
30.0
(30-0)*(5-0)÷(5-0)+0
As shown in the above formula, when measuring 2.5V, current DC0-5Vvoltage is 15m/s。
2. conductivity and DC0-5Vvoltage computing relationship
For example, the range is 0~360°, the analog output is 0~5V DC0-5Vvoltage signal, conductivity and DC0-5Vvoltage The calculation relationship is as shown in the formula: C = (A2-A1) * (X-B1) / (B2-B1) + A1, where A2 is conductivity range upper limit, A1 is the lower limit of the range, B2 is DC0-5Vvoltage output range upper limit, B1 is the lower limit, X is the currently read conductivity value, and C is the calculated DC0-5Vvoltage value. The list of commonly used values is as follows:
DC0-5Vvoltage(V)
conductivityValue (°)
Calculation Process
0
0.0
(360-0)*(0-0)÷(5-0)+0
1
72.0
(360-0)*(1-0)÷(5-0)+0
2
144.0
(360-0)*(2-0)÷(5-0)+0
3
216.0
(360-0)*(3-0)÷(5-0)+0
4
288.0
(360-0)*(4-0)÷(5-0)+0
5
360.0
(360-0)*(5-0)÷(5-0)+0
As shown in the above formula, when measuring 2.5V, current DC0-5Vvoltage is 180°。
1. wind speed and DC0-10Vvoltage computing relationship
For example, the range is 0~30m/s, the analog output is 0~10V DC0-10Vvoltage signal, wind speed and DC0-10Vvoltage The calculation relationship is as shown in the formula: C = (A2-A1) * (X-B1) / (B2-B1) + A1, where A2 is wind speed range upper limit, A1 is the lower limit of the range, B2 is DC0-10Vvoltage output range upper limit, B1 is the lower limit, X is the currently read wind speed value, and C is the calculated DC0-10Vvoltage value. The list of commonly used values is as follows:
DC0-10Vvoltage(V)
wind speedValue (m/s)
Calculation Process
0
0.0
(30-0)*(0-0)÷(10-0)+0
1
3.0
(30-0)*(1-0)÷(10-0)+0
2
6.0
(30-0)*(2-0)÷(10-0)+0
3
9.0
(30-0)*(3-0)÷(10-0)+0
4
12.0
(30-0)*(4-0)÷(10-0)+0
5
15.0
(30-0)*(5-0)÷(10-0)+0
6
18.0
(30-0)*(6-0)÷(10-0)+0
7
21.0
(30-0)*(7-0)÷(10-0)+0
8
24.0
(30-0)*(8-0)÷(10-0)+0
9
27.0
(30-0)*(9-0)÷(10-0)+0
10
30.0
(30-0)*(10-0)÷(10-0)+0
As shown in the above formula, when measuring 5V, current DC0-10Vvoltage is 15m/s。
2. conductivity and DC0-10Vvoltage computing relationship
For example, the range is 0~360°, the analog output is 0~10V DC0-10Vvoltage signal, conductivity and DC0-10Vvoltage The calculation relationship is as shown in the formula: C = (A2-A1) * (X-B1) / (B2-B1) + A1, where A2 is conductivity range upper limit, A1 is the lower limit of the range, B2 is DC0-10Vvoltage output range upper limit, B1 is the lower limit, X is the currently read conductivity value, and C is the calculated DC0-10Vvoltage value. The list of commonly used values is as follows:
DC0-10Vvoltage(V)
conductivityValue (°)
Calculation Process
0
0.0
(360-0)*(0-0)÷(10-0)+0
1
36.0
(360-0)*(1-0)÷(10-0)+0
2
72.0
(360-0)*(2-0)÷(10-0)+0
3
108.0
(360-0)*(3-0)÷(10-0)+0
4
144.0
(360-0)*(4-0)÷(10-0)+0
5
180.0
(360-0)*(5-0)÷(10-0)+0
6
216.0
(360-0)*(6-0)÷(10-0)+0
7
252.0
(360-0)*(7-0)÷(10-0)+0
8
288.0
(360-0)*(8-0)÷(10-0)+0
9
324.0
(360-0)*(9-0)÷(10-0)+0
10
360.0
(360-0)*(10-0)÷(10-0)+0
As shown in the above formula, when measuring 5V, current DC0-10Vvoltage is 180°。
Product Pictures
Product Pictures